Bhopal, ANI. The Congress has released the list of its candidates in 15 seats for the by-elections in Madhya Pradesh. Let me tell you that the Election Commission has not yet announced the date for the by-elections in the state, but the Congress has started preparing the preparations for the fight. Premchand Guddu has been declared as the candidate from Saver. Apart from this, Vipin Wankhede has been given ticket from Agar. The list of candidates released by the Congress is as follows…
There are 230 assembly seats in Madhya Pradesh. By-elections are to be held in 27 assembly constituencies in the state. Out of these 27 seats, BJP has to win nine seats. If that happens, it would achieve a majority figure of 116. Currently, BJP has the support of 107 MLAs and Congress has 72 MLAs. Nine seats are reserved for scheduled caste out of the 15 seats on which the Congress has declared its candidates.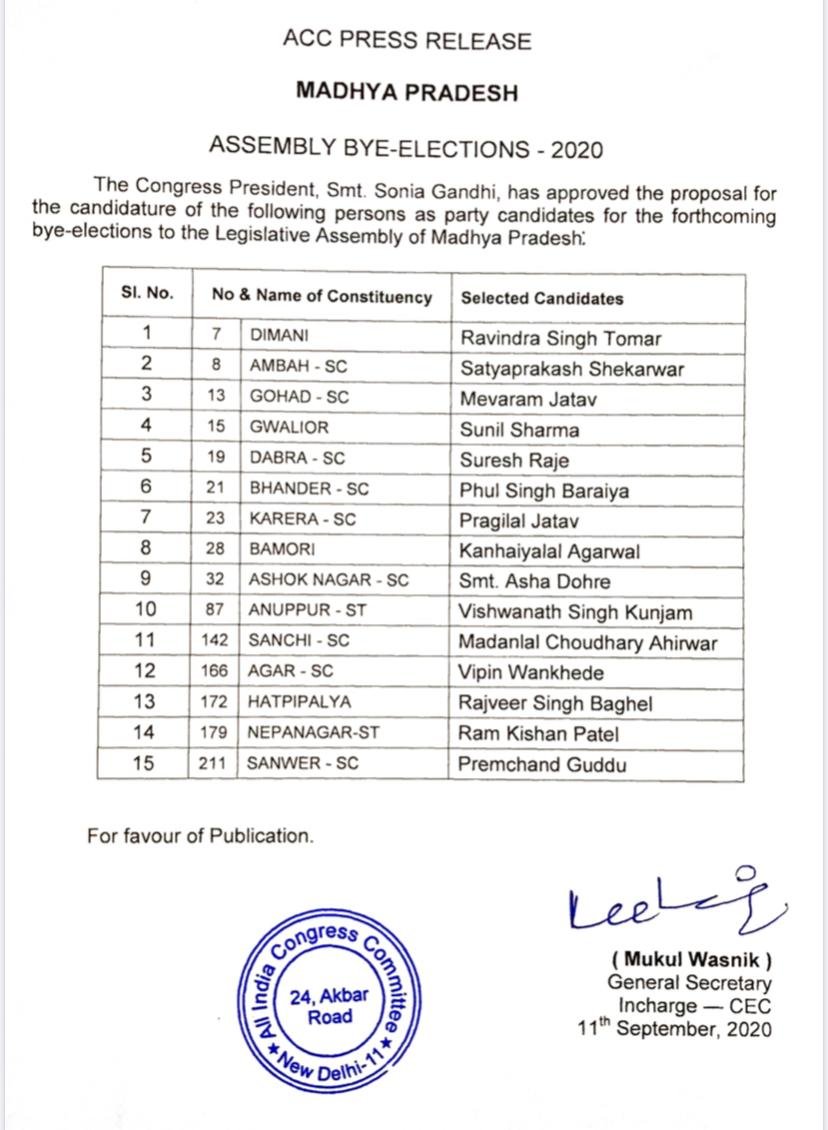 Four seats in the released list are reserved under general category while two seats are scheduled under scheduled tribes category. Ravindra Singh Tomar from Dimani seat, Satyaprakash Shekarwar from Ambah SC reserved seat, Mevaram Jatav from Gohad SC reserved seat, Sunil Sharma from Gwalior (general) seat, Suresh Raje from Dabra SC reserved seat, Phool Singh Baraiya from Bhander SC reserved seat. Pragilal Jatav from SC reserved seat, Kanhaiya Lal Aggarwal from Bamosi general seat, Asha Dohra from Ashok Nagar SC reserved seat.
Vishwanath Singh Kunjam from Anupur ST (Scheduled Tribes) seat, Madanlal Chaudhary Ahivar from Scheduled Caste reserved seat, Vipin Wankhede from Scheduled caste reserved seat, Rajveer Singh Baghel from Hatpipalia General seat, Scheduled tribes ) Ram Kishan Patel from the reserved seat and Premchand Guddu from the scheduled caste reserved seat.